Elegance & Excellence in Personalized Weddings
Milana and Paul: A Marriage of Traditions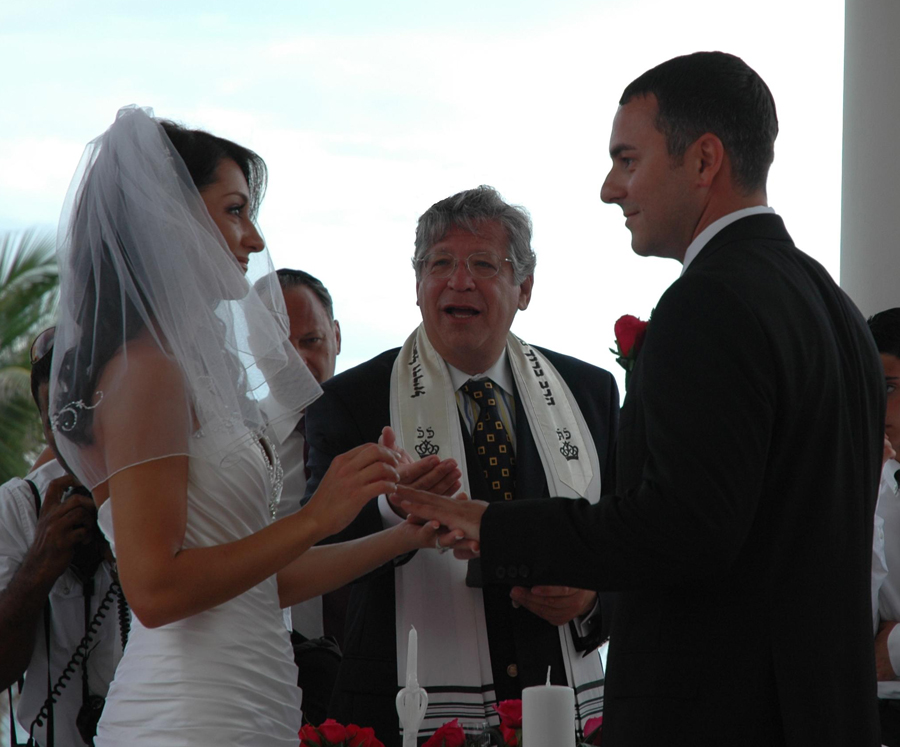 Her family is from Russia. His is from Greece. To begin their future, they married in Cancun. And just beyond the horizon is where their hopes and dreams began.
Dear Rabbi Bleefeld,
Paul and I would like to thank you from the bottom of our hearts for such a wonderful ceremony. Thank you for perfectly capturing both the Greek and Jewish traditions (and what was important to us) in such a remarkable way. The day before our wedding you had suggested that Paul and I look at each other during the ceremony. You told us that this moment would fly by quickly, and that we pay close attention to each other and to the moment itself. Although we took your advice, your words during the ceremony were so powerful and heartfelt that we truly couldn't take our eyes off of you, mesmerized by your beautiful speech. Every time we watch our wedding video we listen closely to your blessings and wishes, and take something new from it each time. Our guests and family were raving about how terrific you and your beautiful wife, Merrie, were. We cannot say enough great things. It was an absolute honor to spend time with you in Riviera Maya.
Thank you again for everything!
Paul and Milana
Jackie and Michael: Bermuda Bride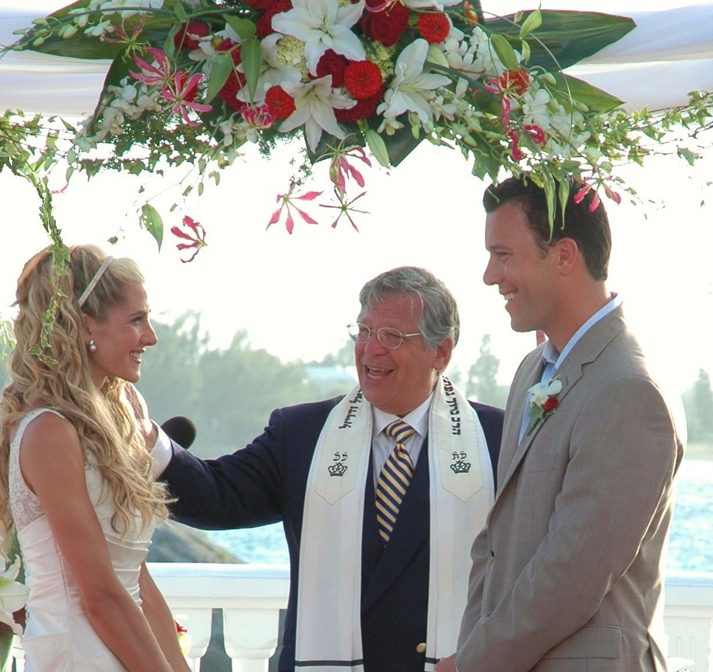 Bermuda can captivate you. It's no wonder that Jackie and Michael John brought us all to this enchanting island of pink sand and turquoise sea. But it was their love and faith in each other that gave us a moment suspended in time.
Dear Rabbi,
We cannot thank you enough for coming down to Bermuda and for officiating at our wedding ceremony for us. It is an incredible honor to have you with us during such an important and meaningful celebration. You are an amazing rabbi and an inspiring speaker. You speak genuinely and from the heart, which is truly refreshing these days!! Thank you so much once again. We are so appreciative.
Our love always,
Jackie and Michael
Taposh and Tania: Love Transcends All Faiths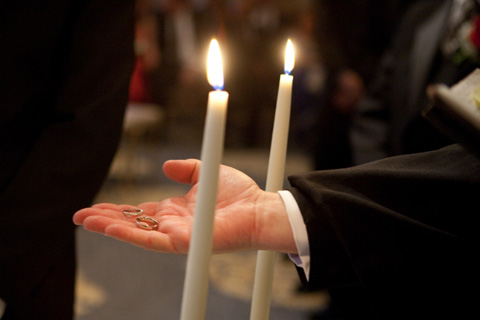 Taposh's parents are from Russia and Bangladesh, Tania's are from a suburb of Delhi, India. They wanted their wedding to respect their faiths, their cultures and most importantly their family.
Dear Rabbi,
We would like to sincerely thank you for your support and guidance throughout our wedding process! We appreciate your counseling leading up to the day and the ceremony, of course, was beautiful. We could not have imagined a better way to capture our love for each other and our families! Most importantly, we are thrilled to have developed a relationship with you and look forward to staying in touch as our lives and relationship evolve!
Tania & Taposh
Jess and Adam: Vows at the Philly Maritime Museum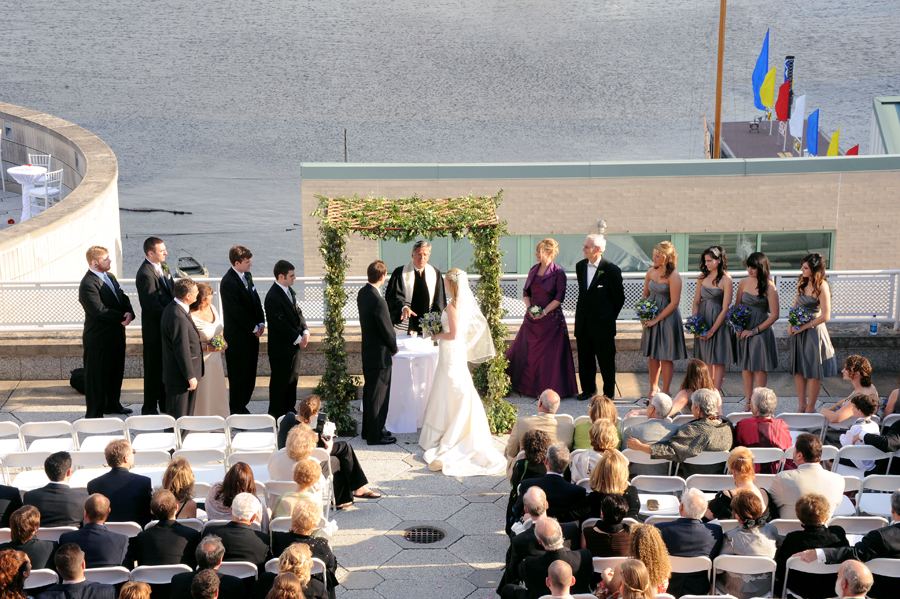 On a terrace overlooking the Delaware River Jessica descended an outdoor stairway as majestically as a tall ship glides into port. Adam was mesmerized... and we were, too.
Dear Rabbi Bleefeld,
We don't know where to begin — you did such a wonderful job at our wedding! As you know, I have been practicing Judaism my entire life, whereas Adam was raised as a Presbyterian. When it came time to decide what sort of wedding ceremony we would have, we weren't sure what to do. Soon after our great debate began, a co-worker of mine recommended I give you a call. The rest is history.
Adam and I felt that we could talk with you about anything and we did! We knew that you truly understood us as a couple, and would do a great job in conveying this understanding at our union. Everyone commented on what a magnificent job you did, but more importantly, you helped everyone understand how lucky Adam and I are to be so in love.
We are honored that you were part of our big day. We look forward to including you in other great events in our lives that are yet to come!
Love,
Jess and Adam
Julie and Nathan: Wedding as Art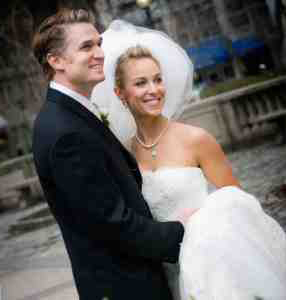 I have been Julie's rabbi since she was born. So when Nathan proposed, we were delighted. It was a privilege to become his rabbi and friend, as well. They married surrounded by art. It was fitting, as they are both a beautiful expression of what love can become
Hi Rabbi,
I cannot thank you enough for your time last night. As soon as we got in the car, Nathan exclaimed, "We are so lucky to have him in our lives; I feel so lucky to have him as a friend." That meant so much to me to hear him say that.
We are truly thankful to have you in our lives.
Julie and Nathan
Languages I've Done Weddings in
(It's amazing how love translates)
English
French
German
Greek
Hebrew
Hindi
Italian
Japanese
Latin
Norwegian
Portuguese
Russian
Spanish
Swedish
Tamil
Locations I've Done Weddings at
(So far, and sometimes so near)
Australia
Bermuda
California
Connecticut
Delaware
Florida
Illinois
Indiana
Italy
Maryland
Massachusetts
Mexico
New Jersey
New York
Ohio
Pennsylvania
Saint Kitts
Tennessee
Washington D.C.